If you haven't heard about the Google Guaranteed or the Google Screened program, you might be missing out on an opportunity to add even more credibility to your business directly in the search results. The program is simply a process by which Google conducts a screening and qualification process to help searches find reputable and trusted providers locally.
The expansion of the program comes after a successful trial run of the Local Services Ads program. Local Services Ads started for the home services space to help them get involved in the Google Ads space with ease. The success of the program has led the company to broaden out the offering to more industries and to the entire country.
Here is what the badges look like in the search result:
Google Guaranteed

Google Screened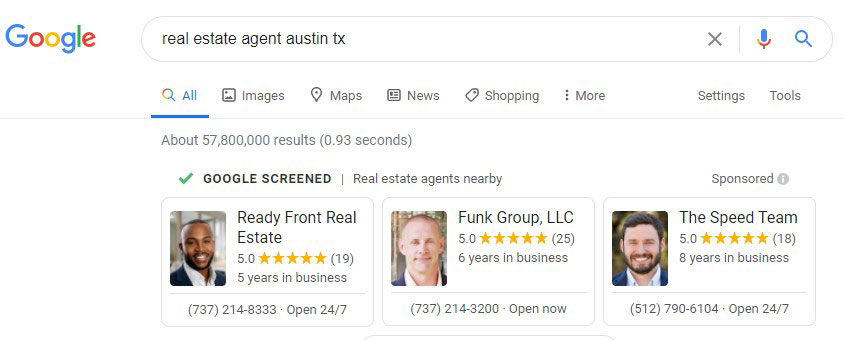 In order to be eligible for the program, your business must have a minimum review score of 3 stars or greater. Both the "guaranteed" and "screened" programs require license and background checks. The Google Guaranteed program actually offers money back to consumers if they aren't satisfied with the provider's work, however that is done at Google's discretion. This guarantee does not extend to those listed as screened.
It is important to note two key distinctions between these programs.
Google Guaranteed is now being offered as a $50/month subscription services, subject to all the same eligibility rules as the original program.
Google Screened is only available for those advertising via the Local Services Ads program.
In addition, there is some overlap where industries can be eligible for both programs. Either way, the sign up process is the same and can be found here. And now, without further ado, here is the complete list of industries eligible for these programs (as of 10.21.2020):
Architect
Appliance repair
Auto glass
Bankruptcy lawyer
Business lawyer
Car repair
Carpenters
Carpet & Upholstery cleaning
Contract lawyer
Countertop services
Criminal lawyer
Disability lawyer
DUI lawyer
Electrician
Estate lawyer
Event planners
Family lawyer
Fencing services
Financial planners
Flooring services
Foundations services
Garage door
House cleaning
HVAC
Immigration law
Interior designer
IP lawyer
Junk removal
Labor lawyer
Landscaping services
Lawn care
Litigation lawyer
Locksmith
Malpractice lawyer
Moving
Personal injury lawyer
Pest control
Pet boarding
Pet grooming
Photographers
Plumber
Real estate agents
Real estate lawyer
Roofing
Siding services
Tax specialist
Traffic lawyer
Tree service
Videographer
Water damage services
Window cleaning
Window repair
The Takeaway
Clearly anything that gives your business credibility in the search results is going to be good for you. From reviews to these guaranteed and screened badges, take advantage of these programs. In addition, there is a symbiotic relationship between your Google My Business profile and Local Services Ads. While you do not need to have a GMB to participate in these programs, your GMB reviews can be found in the ads. Also, GMB is the single greatest factor that will impact your SEO. If you need help connecting the dots with these various programs, feel free to contact us today.