Started in 2008, the Local Search Ranking Factor survey, seeks to break down the factors impacting ranking for local searches (aka searches with local intent). The study takes the feedback from the most prominent SEO experts in the space to unpack Google's search algorithm as it pertains to local search. Short of Google giving us the breakdown of its search algorithm (which it would never do), this is one of the best, most anticipated resources for local businesses and their marketers.
Whitespark has released the 2020 results and some of the findings are surprising, while others are not. The study offers insight into the two primary forms of local results: the local pack (or map pack) and the organic results. Here's the key shifts in search results based on the latest round of expert feedback.
LOCAL PACK (MAP PACK, 3-PACK)
GMB Grows in Importance – Again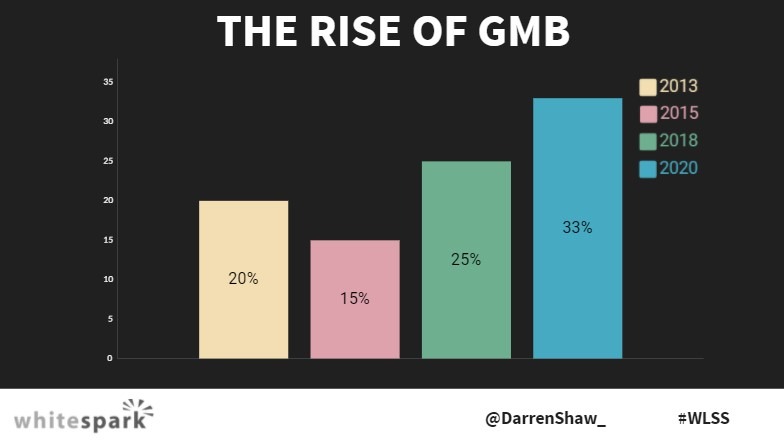 Google continues to put more and more emphasis on the importance of their Google My Business (GMB) profiles. As the chart above shows, experts have been tracking a steady increase in importance of GMB since 2015.
Google has been launching a variety of new features related to the GMB profiles, especially in response to the COVID pandemic. Two of those releases include the ability to book video appointments and online classes directly through the GMB profile. These "reservations" can happen either on the business's own website or directly through an integration with third party apps like Zoom or Skype.
At the same time, Google also has been busy adding more ad features related to GMB profiles. From in-ad bookings for local home services, to an expanding list of industries eligible to run local services ads, part of the objective for Google is to find additional monetization opportunities.
The important takeaway here for most businesses isn't necessarily the Google Ads opportunities but the importance of an optimized GMB profile. Without it, your ability to rank in the local pack is greatly diminished.
Citations Continue Decline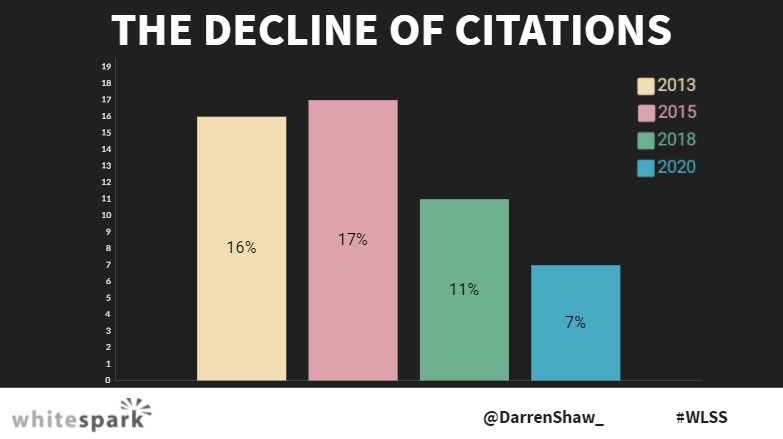 Citations are simply the profiles or listings of your business found on platforms and websites throughout the Internet. There are some sites that offer higher authority citations while others are less than reputable. It's important to understand this in a general way before attempting any shifts in your local strategy.
The study found that citations continue to decline in importance, specifically as it relates to the Local Pack. This makes sense when we consider the increase in the importance of GMB. In other words, as Google prioritizes its own listings (GMB), other site listings are becoming less important when ranking in the local pack.
Top 8 Local Pack Ranking Factors
Here are the specific factors SEO experts say are impacting your ranking in the local pack:
Primary GMB Category
Keywords in GMB Business Title
Proximity to the Searcher
Physical Address in City of Search
Additional GMB Categories
Quality/Authority of Inbound Links
Keywords in Google Reviews
Google Rating
ORGANIC RESULTS
On-Page Optimization & Links Dominate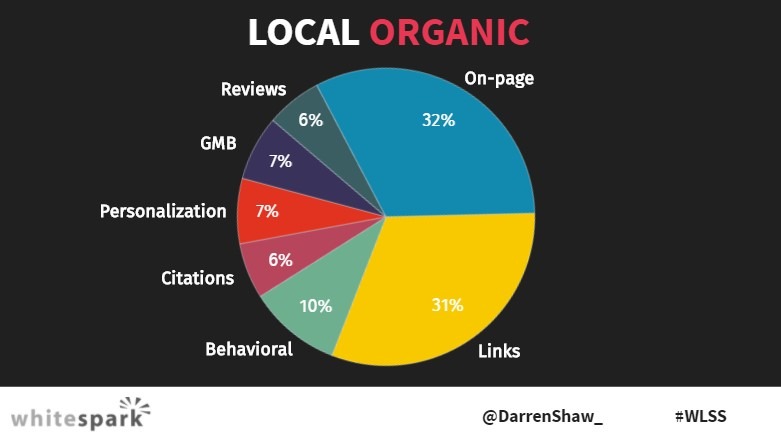 Not a big surprise here in regard to what drives organic results. Your on-page SEO tactics are absolutely critical as this is what you tell Google your site is all about. From meta tags to blog posts to videos to image alt attributes, your on-page optimization can be a huge undertaking, especially if you have many pages, a lot of content, and you've never gone through this exercise before. This is one of the factors you have total control over, so make sure you get it right.
In addition, one of the most challenge aspects of SEO is link building – the process of earning links on reputable websites at scale. This can be an extremely time consuming and arduous process, but the results can be powerful. I've offered a deeper dive into link building over on our blog. Ideas for winning links include sponsoring events, requesting links from existing mentions, guest blogging and media/PR efforts, among others.
Top 8 Organic Ranking Factors
Here are the specific factors SEO experts say are impacting your ranking in the organic results. It is important to note that your improvement in your organic ranking will have a direct correlation to your improvement in local pack ranking. Keep that in mind when considering your SEO strategy. Here's the factors impacting organic results locally:
Quality/Authority of Links to Your Website
Volume of Quality Content on Website
Keywords in Anchor Text of Links to Your Website
Topical (Product/Service) Keyword Relevance on Your Website
Geographic Keyword Relevance of Website Content
Mobile-Friendly/Responsive Website
Domain Authority of Website
Keywords in GMB Landing Page Title
TAKEAWAYS
A lot of these factors impacting your local ranking are manageable, if you have the time to do so. It all really comes down to having a task checklist for your SEO and following it on the regular basis. Additionally, your on-page SEO efforts are one of the few you have complete control over. The keywords people use to find your business or businesses like yours will likely stay the same for some time. Put the energy into creating an on-page strategy ASAP.
For on-page tactics to be effective, you need to understand how to connect with people searching for your products, services and company. This can be accomplished by keyword research and there are many tools to help you do this. From there, you should start by prioritizing which keywords you want to focus on now versus later. You won't win top ranking for 100 keywords tomorrow, but you might be able to make some good progress on 5-10 in the shorter term (1-3 months).
As mentioned earlier, the organic ranking factors feed into the local pack factors, so this isn't an either/or situation. Take the time to create a comprehensive SEO strategy and chip away at it over time, or simply find an expert to manage this for you.