When you're in the market for a new website or a website redesign there are many different providers and technologies to choose from. You will more than likely approach the entire project using one of the following methods: completely do it yourself (DIY), do it with me (DIWM) or do it for me (DIFM). Here's what I mean:
DIY: You handle everything from claiming your URL, adding your content, setting up hosting, customizing your design and incorporating all technical integrations and features you want to have.
DIWM: You handle certain aspects of the website development (content, messaging, format, etc.) and a professional takes care any of the aspects of web development you're not sure of or you don't have time to take care of.
DIFM: You simply hire a professional to handle all aspects of the web development process from coding to copy.
In my experience, the most effective websites and the happiest clients almost always follow a DIWM model. In this collaborative approach business owners work closely with a professional to capture the essence of the business through copy, images, graphics and the overall aesthetic. In addition, the professional makes sure the site incorporates the many technical integrations and tracking components necessary.
DIY website builders include companies like Wix, Weebly, Shopify, Squarespace and many more. While they all offer you the ability to build a site yourself, these platforms function like website rentals. You get up and running quickly, but once you stop paying, you often don't have access to the site anymore. In addition, if you don't have the time to learn and master the website builder, you're not going to be happy with the result. These are just a few of the challenges with website builders.
The pricing structure for these DIY builders is usually a start-up fee with an ongoing monthly subscription. While the most affordable, these websites don't offer the kind of flexibility and customization that comes with a professionally designed site. Some studies even show that major website builders have slow loading pages and have lower search engine ranking (see charts below).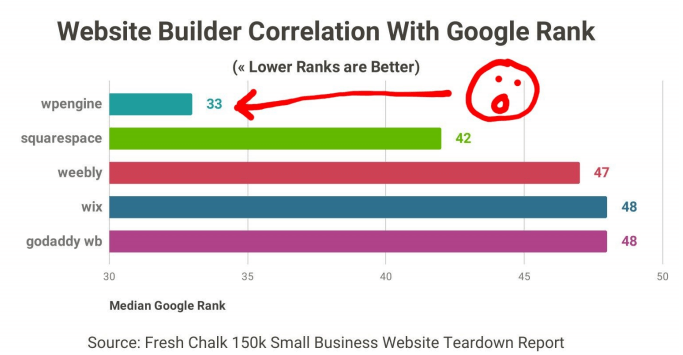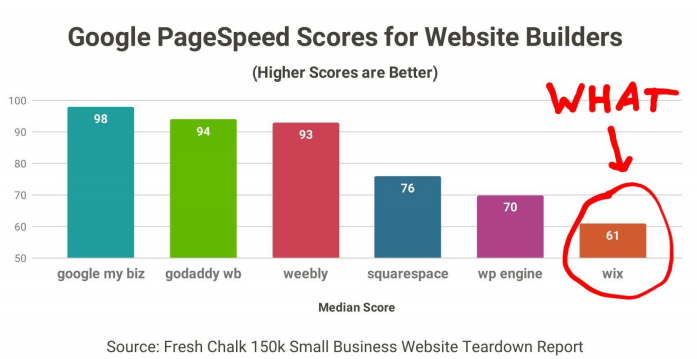 As the charts above show, not all website builders are the same and they don't offer the same level of quality and efficacy as others. The data come from an interesting analysis of over 150,000 small business websites by FreshChalk.
If the website builder doesn't sound like what you need, then the question is, who do you hire? When considering this, there is an important distinction to make between a web developer and a marketing agency. A web developer might be a freelancer or programming guru who has the coding and technical know-how to build the site, but isn't necessarily proficient in branding, design, marketing strategy, copywriting, etc. Marketing agencies, on the other hand, typically are skilled at building a brand with compelling copy and creative, but they may lack in some of the technical areas.
Ideally, the best partner for the job should be highly capable in both technical and creative aspects of web development. But how do you identify the right marketing partner for your website? A good rule of thumb is to look at the website of the partner you are considering. Does the site look good? Is it compelling? Does it function properly? Is it mobile friendly and easy to navigate? Is it easy to find on search engines?
All in all, there are many factors to consider when determining which website approach is right for you. Here are just a few things that you need to ask yourself:
What's my budget?
What's my timeline?
Do I want to own my website for the future or lease it for the short-term?
Do I need more sophisticated features like ecommerce or login protected portions of the website?
Do I need to have the website integrate with my CRM or lead flow tool?
Do I need to set up chat bots or communication tools?
Is branding and customization important? Or do I just want to get something up?
Your answers to these questions should start to help you uncover the best approach for your particular situation. In some cases, it might be more cost effective to sign up with a website builder but have a marketing agency build and optimize it for you.
If this article hasn't helped you understand what to consider when building or redesigning your website, contact us today because we'd be happy to discuss your specific situation and offer some guidance that is right for your business.