The importance of effective, interesting and value-adding marketing continues to increase. It's not shocking news, but with only so many hours in a day, as people spend more and more time with digital media, this creates more an more opportunities for brands and businesses looking to reach them.
Just to put some figures to this growth in the amount of time people spend with digital media, here's some data shared in Mary Meeker's latest Internet Trends Report 2019: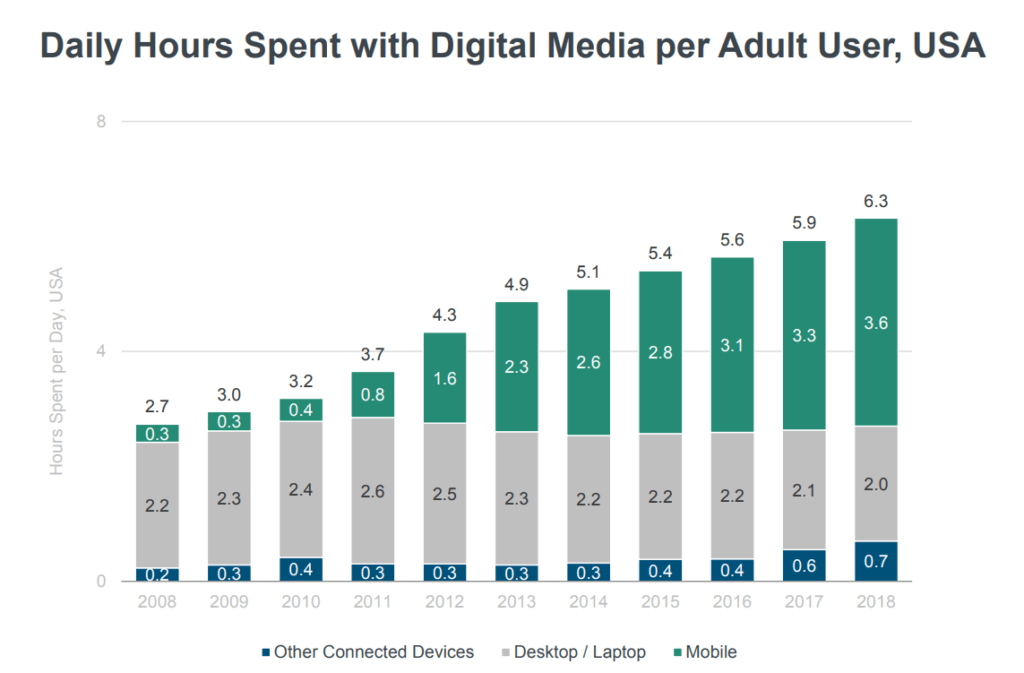 As you can see above, people in 2018 spent, on average, spent 6.3 hours each day on digital media. While use on mobile devices is cannibalizing desktop time spent to some degree, the real interesting story here is that people are simply spending more time with digital media and that's largely due to the fact that mobile devices have made it easier to access digital content anywhere.
From a marketing standpoint, the important thing to note is the share of mobile usage vs. desktop and other connected devices. While desktop usage has been fairly steady around 2 hours per day, it hit a 10 year low in 2018. Some activities are simply easier to do on a desktop or laptop like online shopping, so brands shouldn't ignore bigger screens. The real challenge is delivering a consistent brand experience on all devices and media channels.
Speaking of media channels, the study also compared time spent on the various forms of media, both online and offline and how it has changed over time.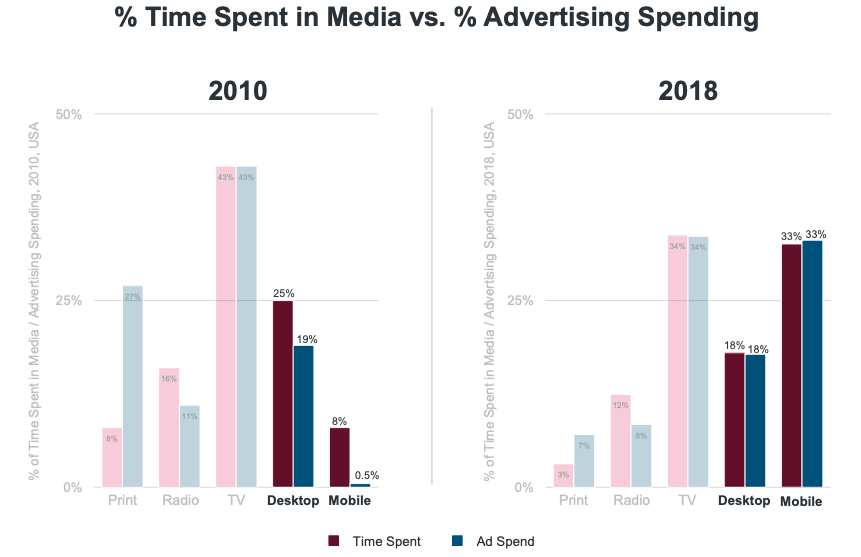 Mary Meeker's argument overall, is that time spent and the percentage of ad spend from advertisers into that channel should be aligned. It appears advertisers are have taken her advice and we are finally seeing alignment between time spent and ad spend on mobile and desktop. On the other hand, print forms of advertising are seeing a much larger ad spend compared to time spent.
When comparing the two charts, 2018 vs. 2010, we see that the huge gaps that once were have drastically shrunk. It exemplifies the realization among businesses big and small that digital marketing is where the spending needs to happen, since that is where people are spending most of their time.
The most important takeaway really pertains to those businesses who still haven't embraced a holistic digital marketing approach. People are spending a lot of time online, most with Facebook and Google, but depending on your industry and your brand, your audience could be a lot of different places online. Without knowing your audience, having a plan to reach them online and executing the strategy, you're guaranteed to be missing out on potential business.
If your small business is ready to give digital marketing the attention, investment and thought that it deserves, contact us today.