A new study analyzing data from 45,000 Google My Business (GMB) profiles has found that the majority of people researching a purchase will search on Google using a category, service or product keyword searches vs. a specific business name. The split, according to the BrightLocal study, is 84% category based searches vs. only 16% direct, brand name searches.
For example, it is far more likely that people will search for "lawyers near me" than they will search for a specific lawyer by name. What this means is that the majority of people haven't decided who they are going to work with for a given purchase and your ability to show up during these searches is absolutely critical. (Here's some SEO tips to do just that.)
The important distinction to make here is that this data is only looking at activity related to GMB and does not consider traffic and activity related to organic or paid search results.
One of the most interesting charts from the study ranked industries by the proportion of views they received from direct vs. discovery searches (below).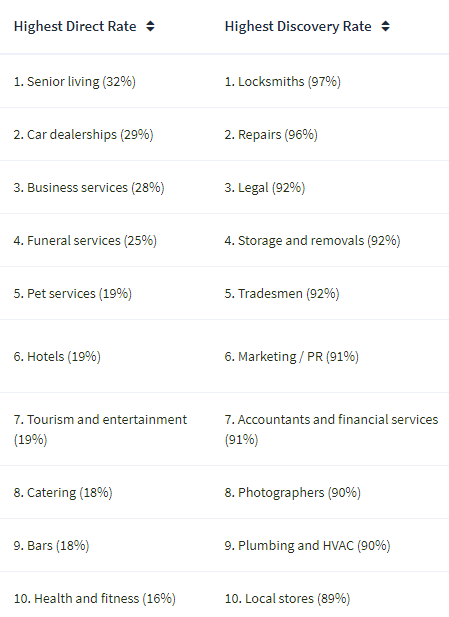 Traditional thinking would say that those spending a lot on local media like flyers, circulars, newspaper ads, local TV, etc., are driving more brand name awareness and therefore get more direct searches. While true in some instances (automotive, funeral, pet, fitness), this logic doesn't stand up when you look at legal for instance who spends a ton on local media, but it is ranked #3 for discovery rate.
Like most studies, we can't draw fail-proof conclusions as it relates to how people search online for your business or industry. The takeaway here is that the search behaviors of your target audience are not predictable, but you can assume that most people looking for your products or services are doing so without your company name in the search keywords.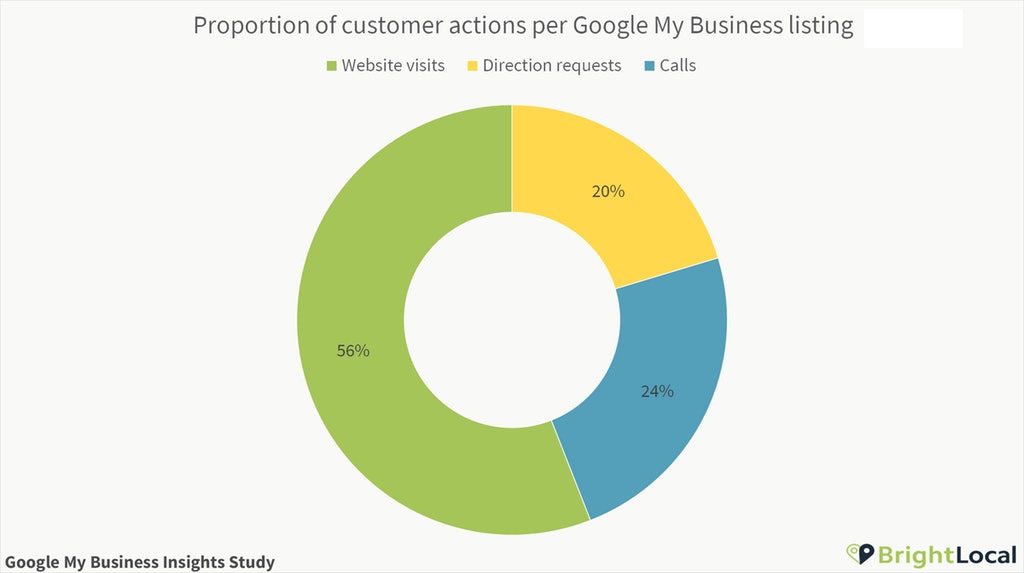 Another interesting set of stats looked at the actions people took when engaging with a specific business via GMB (above). The majority (56%) visited a website, 24% called and 20% requested directions. This suggests that most who find you on Google, still want to see if you're the right fit for what they need, so they view your website and/or call you.
There's still a staggering amount of businesses without a website or with a very outdated one. Yet consumers rely on the website to help inform their decisions. If you don't have a website, it is really slow, it isn't optimized for mobile devices and/or it just looks like it hasn't been updated for years, you will likely be overlooked for a competitor who does offer a positive website experience.
Finally, when looking at where people viewed listings most, 75% found businesses in the search views and 25% in the map views. This is important to note because those without a physical location will need to optimize their GMB listing in order to show up locally on maps.
GMB has been identified as a key ranking factor for every business (which is why we offer a GMB service to our clients). However there are many factors that influence how often you show up on Google beyond your GMB profile. Claiming your GMB listing is just one small part of an overall SEO strategy. Reviews, content, websites, traffic, social media and other channels all have an impact on how high up in the results you are.
The bottom line is Google is assessing your business' online presence to determine how relevant you are for a particular search. You need to understand what people are searching for and then create your strategies to reach them on Google and beyond.
Contact us today if you have questions about SEO, GMB, websites or any aspect of your digital marketing strategy.