While you may not have noticed, Google has been evolving the search engine results page (SERP) for years. What use to show up as a selection of the most relevant "organic" blue links has now become a page diverse with images, maps, ads and answers to your questions. The results are more dynamic and more robust.
The latest shift in how Google delivers content in the results has removed the need for users to click a link to another site in order to get the answer they are looking for. According to a recent study, in February 2018, 47% of all Google searches (desktop and mobile) did not result in a click to an outside website. Mobile was the driver of this with 67% no-click searches compared to 34% on desktop. The user is simply finding the content right in the search result.
While potentially useful for the user (Google's primary customer), this change has infuriated many search engine optimization (SEO) experts and website publishers.
The argument among publishers and SEO pros is that Google "should" simply be a means to an end, by helping direct people to relevant websites and pages. But by ultimately co-opting content from websites and displaying it right in the results page, people have no reason to click to go to the source site.
These no-click searches are a result of new ways Google is displaying content in the search results. For example, if you search "films with most oscars" you are likely to get a list of movies at the top of your search on desktop (below). This is happening on mobile as well and across categories such as weather, flights, sports, hotels, brands, dictionary, famous people and more.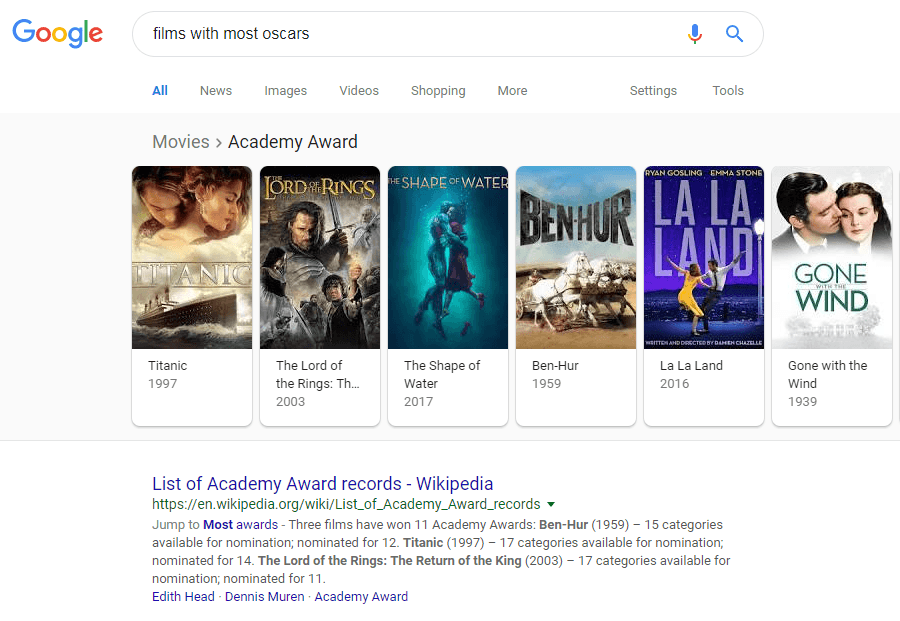 In doing so for both information and commercial searches, Google is able to "own" the traffic and keep the user on Google itself. This is a unprecedented shift on Google and has resulted in a dramatic decrease in organic clicks.
Paid vs. Local Pack vs. Organic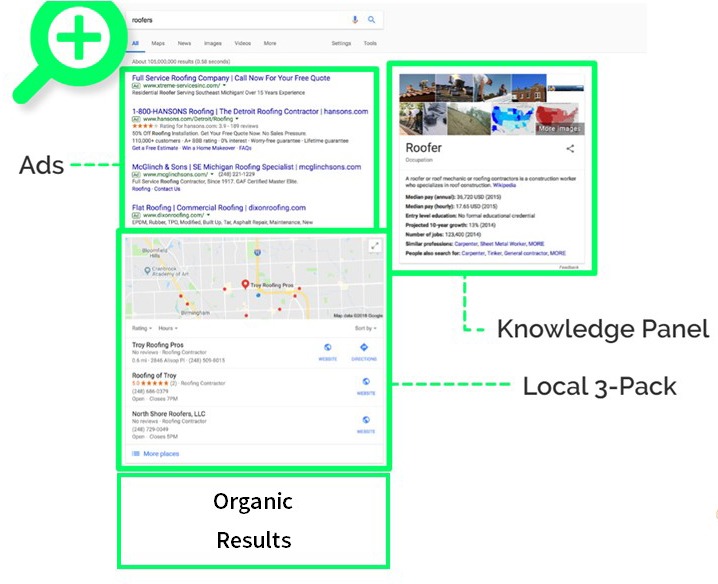 Overall, the majority of clicks occur on page one of the search result. One study puts it at 95% with the majority happening within the first few organic results. This means the object for any business is to at the very least appear on the first page for relevant keywords, and there are three opportunities to do just that. Here they are, as they appear in the search result:
Paid Ads: Because of Google's changes to search results and the resulting no-click behavior, Google has put more emphasis on Google Ads in order to keep advertisers happy and deliver clicks. While only accounting for clicks in 3-4% of searches, the ads help businesses show-up in competitive searches. This can be useful in building awareness of a new business or a business that isn't ranking high organically.
Local Pack: The local pack typically appears under the ads and features three businesses on a map. The ranking factors that dictate how these three businesses are selected are a function of many things, but proximity to the searcher has been identified by experts as the primary driver. The business info that appears in the Local Pack is associated with the Google My Business listing. In many cases, clicks in the Local Pack would constitute a no-click search because the user remains on Google to review the businesses that appear.
Organic: Showing up under the ads and local pack, the organic results still account for 66% of clicks on desktop and 39% on mobile. This is far greater than the 3-4% of clicks on ads. The factors that impact the ranking of organic results are a little different and resemble more of the traditional ranking signals like on-page content, links to the site and traffic to the site to name a few.
Why You Need an Overall Google Strategy, Not Just SEO
The rise of no-click searches is being driven by Google's desire to own the user experience and deliver "answers" quickly. While they are using other people's content to do so, it's happening whether we like it or not. For this reason it is imperative that strategies adjust. It's not about having a great SEO strategy, its more broadly a Google strategy that your small business needs.
You should prioritize your Google strategy in the following way:
Google My Business: Claiming and optimizing your Google My Business listing is fundamental. This listing has the greatest impact on how your business ranks in Google's Local Pack and is a source of calls for many small businesses.
SEO Tactics: There are many SEO tactics worth exploring. I won't get into them here, but click here for nine SEO tips your small business needs.
Google Ads: Paying for ads on Google isn't for everyone, especially those with limited budgets. However, they are increasing in importance and there are some cost-effective Google Ad strategies worth exploring.