Google made over $134 billion in advertising revenue in 2019 for one simple reasons: user intent. When someone searches for something on Google, they are expressing their intent. Advertisers that have a product, service or relevant answer to that query seek to show up in the search results, with many spending thousands of dollars each month on these Google Ads campaigns.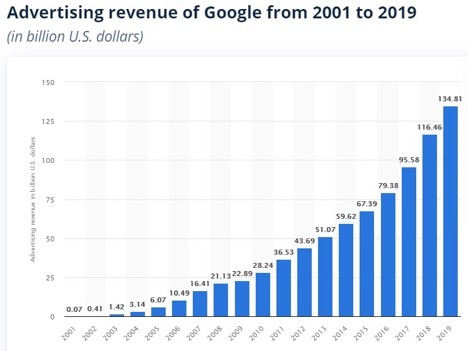 With more advertisers spending on Google ad campaign, the cost to advertise on the platform continues to rise. After all, it is an auction and the more people bid, the higher the price goes. Further adding to the challenge is the plethora of variables and settings that can be tweaked for maximum performance. For that reason, effective campaign management is a very complex task for anyone unfamiliar.
For instance, campaigns can be adjusted based on devices, locations, bidding strategy, interests, behaviors, time of day, audience exclusions and so much more. The science of finding the right formula for your business can take anywhere from 1-6 months. Even then, once your campaigns are triggering effectively, keeping them optimized is an ongoing endeavor.
While each business and industry are different, here are five best practices that can benefit any Google Ad campaign.
Conduct Keyword Research
While Google offers several different ad types (video, display, shopping, search, etc.) let's focus just on search, since search is where you customers are expressing their intent for your services. There are many searches being conducted that you may want to show up for, however the more keywords you target, the more you can expect to spend on your campaign.
For budget-conscious advertisers, it is critical to understand the volume of searches each keyword generates in a given month. Google offers tools for this, but many other exist as well. Even if you target just a handful of keywords, if they are searched often by many people, you will likely spend your budget quickly. The challenge for low-budget campaigns is finding the highest converting keywords that don't deplete your budget.
Your keyword research can help with this, but ultimately you will need some time to test your campaigns to see what happens over time. Starting with a keyword strategy is good but be ready to shift as data starts to come in from your campaigns.
Keyword Optimization on Landing Page (aka On-Page SEO)
A major factor of your campaign's performance is the webpage you direct people to from your ads. Google assigns a "Quality Score" to your ads that determines how often your ad shows (more on that later). When you target a keyword in a campaign, Google wants to see that keyword on the page you direct people to, as this is a sign of relevance.
However, stay away from keyword stuffing – the process of injecting critical keywords all over your page. The more times your keyword is there doesn't mean the more relevant your page is for the search ad. Google is smarter than that. Instead, focus on offering great insight and information that will help the person who is conducting the search.
This focus on relevance and quality information can go a long way in your campaign's quality score and ideally this will improve your impressions, clicks, click-through-rates (CTR) and more.
Optimize Landing Page Design & CTAs
With Google Ads, you know that the searcher is looking for something you can help with. When conducting your keyword research, you'll find keywords that express higher intent than others. If you're looking to grow leads, focusing on the highest intent keywords is critical. From there, your landing page design and call-to-action is critical.
When you've identified high-intent searches and optimized your landing page for these terms, making your landing page design easy to navigate, fast loading and mobile optimized will have a huge impact on your performance. We've seen clients with extremely strong clicks and CTRs, but struggle with actually driving leads because of poorly designed landing pages.
In addition to a strong design and format, having prominent call-to-actions (CTAs) is necessary, especially for lead generation. A CTA is simply a prompt pushing the user to connect with you in some way. This could be a form fill, phone call, email, download, schedule appointment, etc. One tip is to minimize links to other pages but include various "anchor" links that simply scroll people to your form, phone number or section of the website that drives the user toward a conversion action.
Reinforce Your Online Reputation
Be sure to reinforce your stellar reputation on your landing page. This could be in the form of online reviews, social proof, awards, or any other type of content that gives your visitors a sense of your reputation. Your objective is to not simply be an option, but to be THE option when it comes to satisfying their needs.
If you're not spending time on your online reputation or getting customer feedback, you're missing out on a key aspect of your business that people rely on when making purchase decision. One study shows that 82% read online reviews when searching for a local business. Plus, this goes beyond your Google Ad campaigns and can be a critical way to grow your business organically.
Additionally, with some "smart" campaigns, Google ties your ads with your Google My Business profile. That means when users search on Google Maps and see a set of listings, the online reviews associated with those listings also show. When you have a strong set of Google reviews, your smart search campaigns can perform extremely well.
Optimize Ads for Google Ads Quality Score
The strategies listed above all help to support your Google search ad campaign's performance. This is because they focus on improving your ads Quality Score. Here's what Google says about Quality Score:
"Quality Score is intended to give you a general sense of the quality of your ads. The 1-10 Quality Score reported for each keyword in your account is an estimate of the quality of your ads and the landing pages triggered by them…So, having a high Quality Score means that our systems think your ad and landing page are relevant and useful to someone looking at your ad."
Here are the three primary factors that impact Quality Score:
Expected Clickthrough Rate (CTR): This is Google's prediction on how often your ad will be clicked for the keyword(s) you're targeting. This considers historical data, meaning after your ads have been delivering for a while, Google will have a better sense of your expected CTR. If your campaigns are seeing low CTRs, finding ways to improve is critical.
Ad Relevance: This is Google's assessment of how relevant your ad is to the keyword being searched. It measures how closely related your keyword is to your ads.
Landing Page Experience: This is an estimate of how relevant or useful your website will be to people clicking your ad. So, in addition to keywords and copy, a strong web experience (speed, mobile design, legibility, etc.) is important.
By optimizing your campaigns to improve your quality score, you are going to give your ads the best chance at success. Think of it this way, Google wants to deliver an exceptional experience for web searches, for both ads and organic results. If your website is poorly designed or irrelevant, Google won't want to send people there.
It's Time to Upgrade Your Google Ads
These tactics and strategies are a great way to make sure your Google Ads campaigns are as effective as possible. But these are arguably just the basics and the foundation of any campaign. Google ads allows you to go much deeper than this to optimize your campaigns.
While Google does it's best to make campaign creation easy, we've seen time after time, businesses investing in Google Ads with no clear strategy or totally ignoring the power of quality score. That is why working with a certified Google advertiser is so important.
Additionally, this article only looks at search ads. Display, video, and ecommerce ads (shopping) all have a unique set of capabilities and optimizations available to you. Especially with ecommerce Google Ads, the undertaking is great and working with an expert in Google Ads can help you eliminate waste, improve leads/sales and drive your business forward on the user intent Google offers its advertisers.